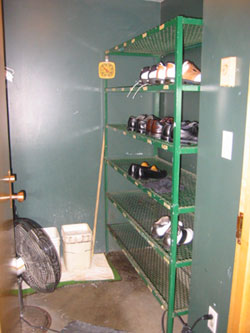 Heated
Shoe Drying Closet
7'x7'x7' as shown with two 4' electric baseboard heaters, a 120 degree thermostat, circulating fan and optional exhaust vent. Parts can be purchased at a local Grainger.
You can convert a closet or make your own shoe drying cabinet using only one 3' or 4' electric baseboard heater. The exhaust vent is not necessary as opening and closing the door(s) will let out moisture.
Heated Shoe Drying Closet
Every club should have one!